Note: This page is full of spoilers.  It is a stub too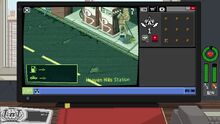 This cage consists of a filling station. You could scan the car plate.
The scan of the plate is automatic. However, you could only write down a single plate, so if you scan two plates, only the last one will be written.
Occasionally there will be a clerk sweeping the lot.
Scan the license plate of a truck that has hit someone, as shown in the picture. (apparently from 00:00 to 2 am)

With the license plate number, you can obtain the information of the owner of the truck to trigger one of the endings.
You can tell the couple to surrender to the police, and this will trigger an ending in the end of the game;
You can blackmail the couple to give you an amount of 35$ every morning.
You can send Kimberly Pegg a video of the truck when it stops by the gas station and in the next day it will be in the news that the truck was burned with the couple inside and Kimberly texts you telling her group will sew the player's avatar on their jacket's back;
You can send a video to shock.tv, get a reward for the video, and in the next day's newspaper; there will be a story that the truck was set on fire with the couple inside.
Community content is available under
CC-BY-SA
unless otherwise noted.